JEE MAIN CUT OFF-2021 PERCENTILE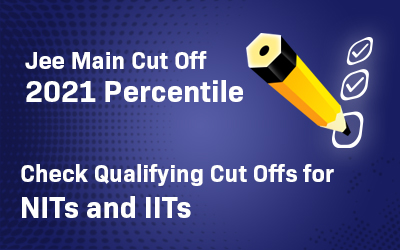 Joint Entrance Examination (JEE) Main results for session 4 have been announced. Along with JEE Main 2021 session 4 results, the National Testing Agency has also announced category-wise cut-offs. The 2021 cut-off, for appearing in JEE Advanced, is 87.8992241, which is less compared to 90.3765335 last year's cut-off. Cut-offs have dropped across all categories
Here Are JEE Main 2021 Cut-Offs For Different Categories:
| | | |
| --- | --- | --- |
| CATEGORY | JEE Main Cut-Off 2021 | JEE Main 2020 Cut-Off |
| GENERAL | 87.8992241 | 90.3765335 |
| OBC-NCL | 68.0234447 | 72.8887969 |
| ST | 34.6728999 | 39.0696101 |
| SC | 46.8825338 | 50.1760245 |
| STGEN-EWS | 66.2214845 | 70.2435518 |
| PWD | 0.0096375 | 0.0618524 |
Category-wise JEE Mains 2021 cut-offs

Types of Cut-offs for JEE Main 2021:
Candidates often get confused on which cut off should they follow:
Getting an admission into one of the colleges that accept JEE Main scores, or their eligibility to appear in JEE Advanced. Hence, they have come up with a segregation of the two cut-offs and a clarification. With this, candidates can understand which one to consider, when following either of the two options mentioned below:
Cut off for qualification (which qualifies an aspirant to appear for JEE Advanced)
Cut off for admission (which will be applicable when an aspirant chooses to take admission to one of the colleges based on marks obtained in JEE Main).
Expected Admission Cut Off Marks for JEE Main 2021:
The admission JEE Main cutoff is the minimum marks required by the candidates for higher chances of admission into the participating institutes of JEE Main 2021. On the behalf of the participating institutes, Joint Seat Allocation Authority (JoSAA) will release the JEE Main 2021 admission cutoff. While the release of cut off marks from JoSAA is still due and expected to be released tentatively soon, a calculated the range of JEE Main expected cut off that may be applicable for admissions in the current session.

Expected Qualifying Cut off for JEE Mains 2021:
Have a look at the last year (2020) JEE Mains cut off that followed after the exams. It will give you a much better idea of the cut-offs that may be released in 2021. Accordingly, you can prepare for appearing in JEE Advanced.
So, assess your expected results with the JEE rank predictor, match them with IIT JEE Mains cut off for the previous year, and prepare for the right course of action to be taken.
| | |
| --- | --- |
| CATEGORY | CATEGORY WISE CUT-OFF |
| CRL | 89 |
| ST | 44 |
| SC | 54 |
| OBC | 74 |
| PWD | 0.11 |
Expected Quality Cutoff for JEE Mains 2021
A Brief Look:
For General/Unreserved candidates – Between 80 and 105
For OBC candidates – Between 38 and 60
For SC candidates – Between 28 and 42
For ST candidates – Between 25 and 38
So, depending on the category a candidate belongs to, he/she may expect to get admission in B.Tech/B.E/B.Arch courses in participating institutes as per the JEE Main cut off ranges for 2021. As per the cut-offs released by JoSAA, candidates need to sit for counselling to get admissions in the 23 IITs, 25 IIITs, 31 NITs & 28 GFTIs all over India.
This counselling and admission procedure will be carried out after the declaration of cut-offs, results and AIRs for JEE Advanced.
Time to Make a Decision!
This was all about the JEE Main cut off you needed to know for assessing whether you qualify for the next level or not. Now, all you would need to do is check your answers with the help of the JEE answer key, get an estimate of rank through the JEE rank predictor and start preparing for the next course of action.
If your expected marks match the cut-offs, you need to seek out colleges that you qualify to get admitted in. Or, if you wish to continue with the dream of getting admission into one of the coveted IITs, start prepping up for JEE Advanced.


Remember, nothing pays off better than hard work!