TS EAMCET 2023 Rescheduled Exam Dates, Pattern & ….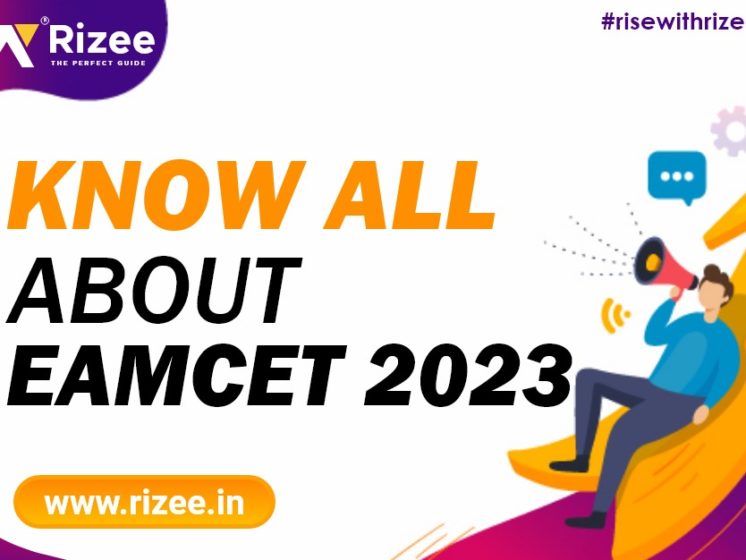 TS EAMCET 2023 results will be declared on Thursday, 25th May.
Education Minister P Sabitha Indra Reddy will announce the results at 11 am at Jawaharlal Nehru Technological University (JNTU) – Hyderabad. After declaration, the results will be available on the website https://eamcet.tsche.ac.in/ from 11.15 am.
The dates for the TS EAMCET 2023 exams have been announced. Revised TS EAMCET 2023 Engineering (E) Stream online examination has been rescheduled for May 12th to May 14th, 2023., and for agriculture and pharmacy exams, from May 10th to May 11th. TS EAMCET is a state-level entrance test administered by JNTU Hyderabad on behalf of the Telangana State Council of Higher Education (TSCHE). Candidates seeking admission to different UG programmes in engineering (E) and agriculture and medicine (AM) areas can apply through this test. Candidates who pass the test are able to enroll in a variety of programmes offered at private and public institutions across the state.
TS EAMCET 2023 Highlights
Check important details of the TS EAMCET exam in the table below:
Particulars
Details
Exam Name
Telangana State Engineering, Agriculture & Medical (Pharmacy, Veterinary etc.,) Common Entrance Test
Conducting Body
Jawaharlal Nehru Technological University Hyderabad on behalf of Telangana State Council of Higher Education (TSCHE)
Exam Level
State-level
Exam Frequency
Once a year
Mode of Exam
Computer-based test
Courses offered through the Entrance Exam
BE, BTech, BPharm, PharmD, BSc, BFSc, and BVSc
Exam Fees
E or AM stream for Gen candidates – INR 800E or AM stream for SC/ST & PH candidates – INR 400E and AM stream for Gen candidates – INR 1600E and AM stream for SC/ST & PH candidates – INR 800
Exam Duration
3 hours
No. of Papers and Total Marks
1 paper for 160 marks
Total Questions
160 questions
Marking Scheme
1 for each correct response, no negative marking
Colleges Accepting Exam Score
Around 320 University/ Private Colleges in the state of Telangana
Official Website
eamcet.tsche.ac.in
Contact Details
Examinations Building, Ground FloorJawaharlal Nehru Technological University HyderabadKukatpally, Hyderabad – 500 085.TelanganaPhone: +91-8522018533 and +91-9866937564Email: convener.eamcet@tsche.ac.in
Timings: 10.00 AM to 5.00 PM (Excluding Sundays and Public Holidays)
TS EAMCET 2023 Eligibility
Candidates must go through the details of eligibility criteria for TS EAMCET 2023 below.
TS EAMCET 2023 Eligibility Criteria – Nationality
Candidates applying for TS EAMCET 2023 should be Indian National/ Persons of Indian Origin (PIO) / Overseas Citizen of India (OCI) Card Holders.
They should belong to the state of Telangana/Andhra Pradesh.
They should satisfy local/non–local status requirements as laid down in the Telangana / Andhra Pradesh Education Institutions (Regulations of Admission) order, 1974 as subsequently amended.
TS EAMCET 2023 Eligibility Criteria – Age Limit
Candidates must be 17 years of age as of December 31 of the year of admission and an upper age limit of 22 years for all the candidates and 25 years in respect of scheduled caste and scheduled tribe candidates as of 31st December of the year of admission.
TS EAMCET 2023 Exam Pattern
Check the exam pattern and important details for TS EAMCET 2023 below:
Mode of the exam: CBT
Duration of the exam: 3 hours
Number of questions: 160
Marking scheme: +1 for each correct answer, no negative marking
Language: Candidates shall have 3 options:
English only
bilingual in English and Telugu and
bilingual in English and Urdu languages
Type of questions: MCQ's only
Check the distribution of the questions below:
For Engineering
| | |
| --- | --- |
| Subjects | No. of Questions |
| Mathematics | 80 |
| Physics | 40 |
| Chemistry | 40 |
For Agriculture and Medical
| | |
| --- | --- |
| Subjects | No. of Questions |
| Botany | 40 |
| Zoology | 40 |
| Physics | 40 |
| Chemistry | 40 |
TS EAMCET 2023 Application Form
TS EAMCET 2023 application form can be submitted online only. To apply for TS EAMCET candidates must check their eligibility and then proceed to apply for the test.
Note the following details while filling out the online application form:
Candidates with Mathematics, Physics, Chemistry / Bio-Tech / Biology as optional subjects in their Intermediate or its equivalent course should submit an "E" stream online application for Engineering BE/BTech/BTech (Ag Engineering)/BTech (Dairy Technology)/BTech(FT)/BPharm (MPC)/PharmD (MPC) courses
Candidates with Biology, Physics and Chemistry as optional subjects in their Intermediate or its equivalent course should submit "AM" stream online application for BSc (Hons) Agriculture/BSc (Hons) Horticulture/BSc (Forestry)/BVSc & AH/BFSc/BTech (FT)/BPharm/BTech (Bio-Technology) (BiPC) /Pharm-D (BiPC) courses.
The steps to fill TS EAM 2023 form is as follows:
Step-1: Pay Registration Fee: Candidates can make an online fee payment through this option.
Step-2: Fill out Online Application Form: After Fee Payment either by Cash at TSOnline / APOnline Center (or) by Online Payment through Credit Card / Debit Card / Net Banking modes, candidates should fill in the Application through this option.
Step-3: Print Filled in Application Form: After the submission of the application form, candidates can print the Submitted Application Form.
Step-4: Know your Fee Payment Status: Candidates can check the success/failure status of Fee Payment.
TA EAMCET 2023 application fee: Candidates have to pay the following fee to apply for TS EAMCET:
Stream
Category
Fee (INR)
Engineering (E)
SC/ST & PH
400/-
Others
800/-
Agriculture & Medical (AM)
SC/ST & PH
400/-
Others
800/-
Both Engineering (E)
and
Agriculture & Medical (AM)
SC/ST & PH
Others
1600/-
TS EMCET 2023 Application Form Correction
TS EAMCET 2023 application form correction window opens for the registered candidates. This facility allows the candidates to make changes to the already submitted form for one last time. Candidates have to login to edit / correct details in the application form. To login, registration number, qualifying exam hall ticket, payment reference id, mobile number, and date of birth are needed. Under the login, the link to the edit application form is activated which can be used to edit the form online.
The details that cannot be changed: The following details will not be available for changes.
Stream
Qualifying Exam Hall Ticket No.
Candidate's name
Father's name
Date of Birth
Test Zone
SSC Hall Ticket details
TS EAMCET 2023 Selection Process
The selection process of TS EAMCET includes the following steps:
Apply for TS EAMCET 2023
Download the admit card
Appear for the entrance test
Check answer key and result
If qualified participate in online counseling
Note: Before counseling, predict your college and branch according to your rank and category using this link.
https://rizee.in/EAMCET/College_Branch_Predictor/?src=college_predictor
EAMCET 2023 is still two months away. Now is the time to give a boost to your preparation. Join Rizee and get a better understanding with Short notes, revision materials, practice as needed (chapter- or subject-wise), and review previous year's papers to understand which types of questions to look out for. Additionally, you should also practice mock tests to get a better understanding of your strengths and weaknesses.
Boost your Preparation Now: https://rizee.in/EAMCET/?src=blog
How to manage time management and accuracy
Make a Time Table : The first and most important step to managing your time is to make a time table for your preparation. Plan out your entire day and allocate specific time slots for each subject. This will help you to stay focused and organized.
Take a look at Previous year papers: Previous year papers are important resources for students preparing for exams. They provide an idea of what kind of questions may come in the exam and help test takers understand the exam pattern.
Prioritize : Prioritize your studies and put more emphasis on the topics that you find difficult. Make sure to give enough time to such topics.
Practice: Practice as many questions as you can from each topic. This will help you to become familiar with the types of questions that come in the exam and also help in increasing your accuracy.
Take Mock Tests: Appearing for mock tests will help you to assess your preparation. It will also help you to identify the topics you are weak in and give you an idea of the time management you need to employ in the actual exam.
Click here to take free mock tests : https://rizee.in/EAMCET/?src=blog
After writing the mock test, you will get a detailed performance analysis like the one below.
http://admin.mylearningplus.in/student_analytics/pdf/Student_Analytics_23928_080223.pdf
Watch the entire video to learn how to plan your preparation by yourself
https://www.youtube.com/watch?v=sCjsw20NOsM&list=PLeJvtpah5BIyH6_z9KZg-Rcbv9nm4138O&index=6