JEE Advance Results 2021 Cutoff Full Details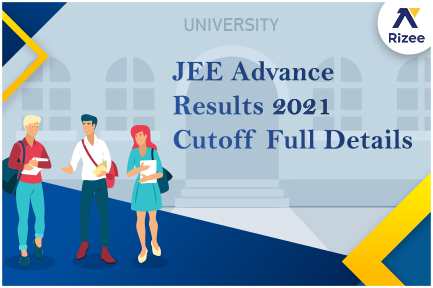 The wait is over. For many of us those years of hard work, determination and sacrifice has paid off. Now is the time to rejoice, regroup and march on as the IIT JEE Advanced 2021 results were announced on October 15 and the JoSAA counselling process has begun.
Qualified candidates can fill their choices on the Joint Seat Allocation Authority (JoSAA) website starting October 16, 2021, 10:00 IST. Choice filling ends on October 25th, 2021.
JEE Advanced 2021 qualified candidates can register for AAT starting October 15, 2021, 10:00 IST until October 16, 2021, 17:00 IST on the candidate portal.
Mridul Agarwal and Kavya Chopra bagged the top ranks among males and females in JEE Advanced 2021. A well deserved and hearty congratulations to them.
A total number of 141699 candidates appeared in both papers 1 and 2 in JEE Advanced 2021; 41862 candidates qualified the exam out of whom, 6452 are females.

JEE Advanced 2021 cut-off marks:
Several rank lists have been released for JEE Advanced 2021 as per the reservation categories which have differing qualifying marks. To be included in these rank lists, candidates have to secure the minimum qualifying cut-off marks for each of the three subjects and the aggregate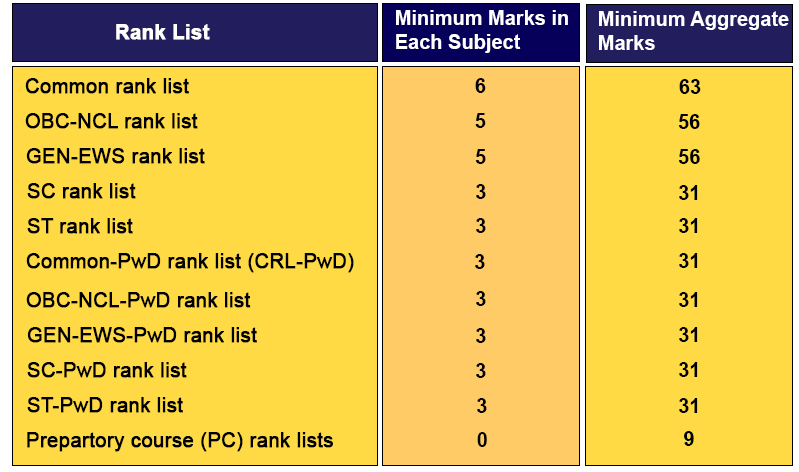 The final JEE Advanced cut-off will be decided based on the following factors:
The number of students appearing for the exam.
Availability of the number of seats.
Student's performance in the exam.
Previous year cut off trends.
The difficulty level of the exam.
JEE Advanced 2021: Opening And Closing Ranks For The IIT's:
The opening and closing ranks for admission to the IITs this year will be clear only after all the rounds of the JoSAA counselling process are over.
To get an estimate of whether you can get through to an IIT of your choice, you can check out the opening and closing ranks for in-demand courses in the top 5 IITs in JEE Advanced 2020:
IIT Madras
Computer Science & Engineering: 49 to 157
Electrical Engineering: 166 to 818
Civil Engineering: 2457 to 5042
Mechanical Engineering : 844 to 2146
IIT Bombay
Computer Science & Engineering: 2 to 63
Electrical Engineering: 25 to 288
Civil Engineering: 1498 to 3267
Mechanical Engineering: 291 to 1110
IIT Delhi
Computer Science & Engineering: 31 to 104
Electrical Engineering: 311 to 550
Civil Engineering: 2023 to 3653
Mechanical Engineering: 617 to 1435
IIT Kanpur
Computer Science & Engineering: 111 to 231
Electrical Engineering: 447 to 1163
Civil Engineering: 3659 to 4745
Mechanical Engineering: 1377 to 2353
IIT Kharagpur
Computer Science & Engineering: 180 to 284
Electrical Engineering: 1128 to 1479
Civil Engineering: 3286 to 5273
Mechanical Engineering: 980 to 2446
Top IITs, NITs and other engineering colleges as per NIRF Ranking 2021:
The NIRF Ranking 2021 was released in early September and it ranks most of India's vast number of higher education institutes numbering to over 45,000 degree colleges, 1000 universities and 1500 top institutes.
IIT Madras kept its Rank No. 1 position in the 'Overall' category for the third consecutive year and the top spot in the 'Engineering' category for the sixth year in a row.
Top 10 IITs in India as per NIRF Ranking 2021:
1. IIT Madras
2. IIT Delhi
3. IIT Bombay
4. IIT Kanpur
5. IIT Kharagpur
6. IIT Roorkee
7. IIT Guwahati
8. IIT Hyderabad
9. IIT Dhanbad
10. IIT Indore