ICSE Board Latest News On Class 10 and 12 Exams.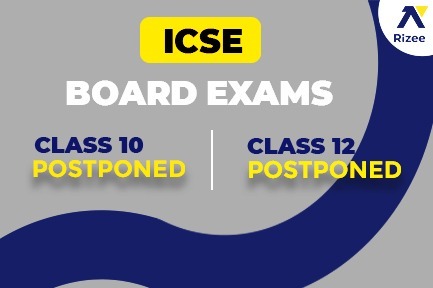 Following the CBSE's decision to cancel and postpone the classes 10, 12 exams respectively, the Council For The Indian School Certificate Examination has postponed the ICSE class 10 and class 12 exams. As per the now-scrapped schedule, the ICSE Class X exams were scheduled to be held between May 4th & June 7th, 2021, and Class XII examinations were to be conducted between April 8th and June 18th. ICSE board has decided to postpone the Class X and XII examinations in view of the Covid-19 surge. The fresh dates for the examination are expected to be issued in June.
Meanwhile, last year, the board exams were canceled, and students were evaluated on the basis of internal assessment. As per the scheme, candidates were evaluated based on the best three subjects percentage marks for which board exams were held, and also on their internal assessment, project work marks.
The decision was taken in view of the increase in COVID-19 cases in the country. States like Maharashtra, Uttar Pradesh, Chhattisgarh, Delhi, Gujarat, Karnataka, Madhya Pradesh, and Rajasthan are the worst hit by the pandemic. Registering a steady increase for the 35th day in a row, India recorded 1,84,372 new cases in the last 24 hours, pushing the total tally of cases to 1,38,73,825, while the active cases surpassed the 13-lakh mark. The death toll increased to 1,72,085 with 1,027 new fatalities, the highest since October 18, last year.
Schools have been shut down in 11 states due to the second wave of the pandemic. For many classes, schools have not reopened since the initial shutdown of March 2020. At least four State education boards scheduled to hold examinations in April have announced the postponement.
Class 10th Students have got some added benefits in building their basics for top competitive exams in India like JEE and NEET to fulfill their aspirations and get into top IITs, NIT, and medical institutions. Since they haven't appeared for the board exams they should focus more on exam-oriented preparation to get equipped with competitive exam behavioral skills to fulfill their dreams.
Students should utilize this opportunity to prepare well for their upcoming JEE and NEET and EAMCET 2021 Exams. Strategies that help students to organize their preparation and perform better in their final JEE and NEET exams are now possible with the best online platform RIZEE – Learning Made Easy for JEE, NEET, and EAMCET.
Check Our Recent Posts: