AP EAPCET 2022 Counseling Process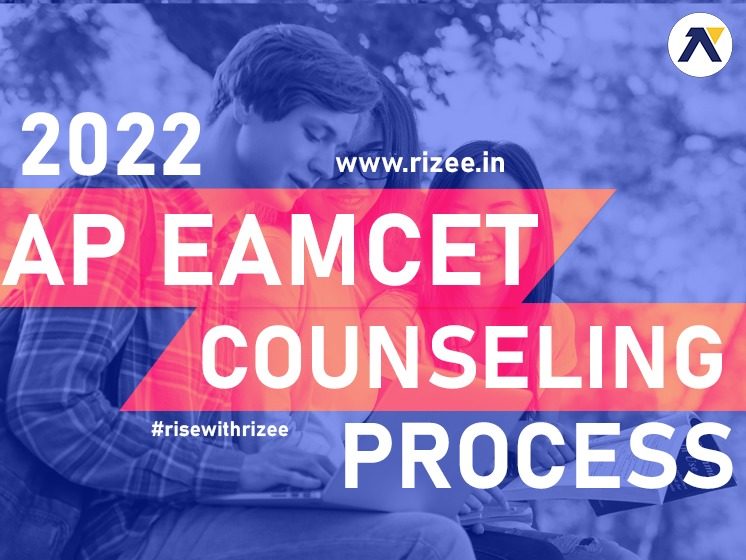 After the declaration of AP EAPCET results, the next step is counseling where you, the candidate, get to choose which college and stream you want to attend. This process is extremely important as your future and career depends on it. Be mindful of every step and follow our guide below for a successful counseling and seat allotment.
This is a step-by-step guide for candidates going to participate in the AP EAPCET counseling process.
Documents Required during AP EAPCET Counseling 2022
You shall need the following documents while appearing for AP EAPCET 2022 counseling:
AP EAPCET rank card 2022.
AP EAPCET 2022 hall ticket.
Class 12-mark sheet and passing certificate.
Transfer Certificate from your college.
Date of birth proof (SSC or its Equivalent Memo)
EWS certificate (If applicable).

EWS certificate valid for the year 2022-23 from MeeSeva for OC candidates who want to claim reservation under EWS category
Andhra Pradesh state residence certificate.

State residence certificate of father/ mother for a period of 10 years excluding the period of employment outside Andhra Pradesh from Tahsildar with respect to Non-Local Candidates
Integrated community certificate (If applicable).
Income certificate of parents.

Income certificate of parents from all sources issued on or after 01.01.2018 or White Ration card (candidate name and either of the parent's name have to be reflected in the ration card) those who wish to claim tuition fee reimbursement)
Local status certificate.

A candidate who migrates to any part of the state of Andhra Pradesh from the state of Telangana from 02-June-2014 to on/before 01-June-2022 shall be regarded as the local candidate in the state of Andhra Pradesh.
Category Certificate (If applicable).
Documents required by PH/CAP/NCC/Sports/Minority Candidates for counseling:
Anglo Indian – Certificate issued by Tahsildar of their place of residence.
NCC and Sports – Original certificates issued by the concerned authority.
Minorities – SSC TC contains Minority status or certificate from the headmaster.
PH – Certificate issued by the District Medical Board – Candidates with only 40% and above disability are eligible.
CAP – Certificate issued by the Zilla Sainik Welfare Officer – Identity card and Discharge book (in case of Ex-Servicemen) and Service Certificate (in case of in-Servicemen) issued by the concerned authority for verification.
Step 1- Registration and Payment of Processing fee:
The first step of AP EAMCET 2022 counseling, candidates will have to register and pay processing fee by following the given steps-
Open the website using sche.ap.gov.in and click on EAPCET-2022 Admissions.
Click on Registration form link
Enter "EAPCET Hall Ticket No" and "Date of Birth"
Registration form with all the basic information is displayed, verify all the details.
Accept the declaration and you will be directed to the processing fee payment gateway. If you find any mistakes in the information provided, you can use the provision to make changes by selecting the option "yes" from the drop-down box provided before the declaration and click on submit button, which will direct you to make any corrections to rectify the mistakes using suitable data with relevant document proofs to be uploaded online. Then accept the declaration and you will be directed to the processing fee payment gateway.
The processing fee for web counselling is Rs.1200 (for OC/BC) and Rs. 600 (for SC/ST). You will be instructed to pay through online by credit card/ debit card/net banking etc.
*insert image of payment*
You may want to note the transaction reference ID for future reference
Step 2- Document Verification:
After you have paid the AP EAMCET counseling fee, APSCHE shall conduct the process of verification of documents. The verification of documents shall be done in online as well as offline modes for your convenience.
If your certificates are already verified through web services from the respective board/agencies based on the information furnished by the candidate while applying for EAPCET 2022 , they are directed pay the AP EAPCET 2022 processing fee cum registration and can verify the details (personal, academic and other details) for the correctness. Once you are satisfied with the data available, then you need not upload any certificates.
Step 3- Status of Document Verification:
You have to check your certificate verification status by entering their hall ticket number and date of birth. Your details will be displayed on the screen when your certificates are verified online. A message "Candidate is eligible for exercising options" will be displayed. After which you can proceed to option entry as per the schedule given in the notification.
If your certificates are not verified online a message "candidate is not eligible or certificate verification is in progress" will be displayed. Then you have to upload the required documents. The uploaded certificates shall be verified by the concerned Help Line centre authorities and decide your eligibility. If you are eligible then you can proceed to option entry as per the AP EAMCET 2022 counselling schedule.
Step 4- Option Entry:
After successful AP EAMCET counseling registration, you will have to login again for the purpose of option entry on scheduled dates. While exercising the web options, you have to select their preferred colleges and courses in order of preference.
Visit official website (link will be provided above)
After filling all the options, you have to save your options which shall later be locked for allotment of seats.
Step 5- Allotment of Seats:
After you have successfully filled out your preference of colleges within the specified last dates have allotted seats by APSCHE. The AP EAPCET seat allotment is done on the basis of scores obtained in AP EAPCET 2022 and choices filled by you. The seat allotment college-wise is reflected on the official website which can be accessed by you through your login. You will have to download the provisional seat allotment letter and visit the institute allotted for further admission process.
Step 6- Reporting at Institute Allotted:
You have to visit the allotted institute in accordance with the AP EAPCET counselling schedule. You will need to carry the AP EAMCET 2022 seat allotment letter along with other requisite documents
Follow us at Rizee and get timely updates on AP EAPCET and other competitive examinations.
If you have any queries feel free to reach out to us on WhatsApp at : 9154110191
Or drop us an email at: info@rizee.in