PREVIOUS PAPER ANALYSIS OF AP/TS EAMCET EXAM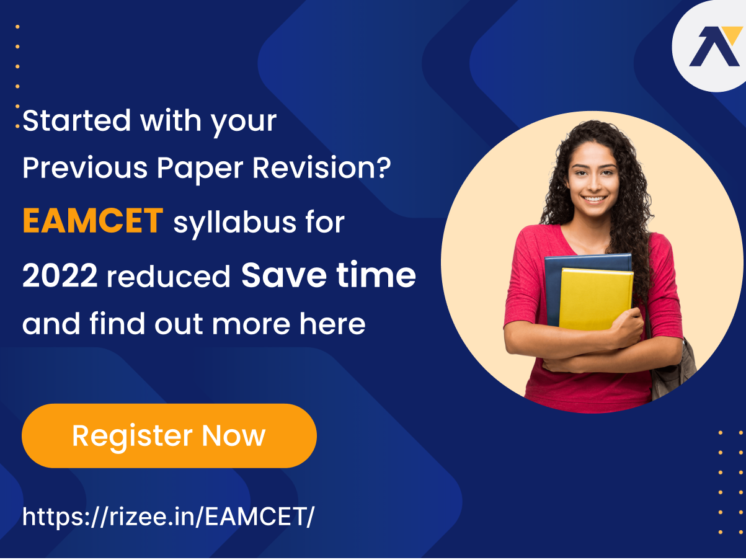 TS EAMCET and AP EAPCET exams are very near to us. They will be held in the month of July for 2022,so,have you started your preparation yet? If you started it is good and have you gone through the previous year papers for analysis?Do not fret if you haven't as rizee is providing the previous year paper analysis feature.
By analyzing the previous year EAMCET papers you shall become aware of the complexities and most repeated model questions in each subject, helping you prepare better and gain confidence in yourself for the examination. Gain insights into how to quickly identify and solve various questions in the exam.
PREVIOUS EAMCET PAPERS:
Join Rizee EAMCET Crash Course 2022 now and start your previous paper analysis with solutions for the past 5+ years.
AP MPC
AP BIPC
TS MPC
TS BIPC
Introducing the RIZEE EAMCET crash course.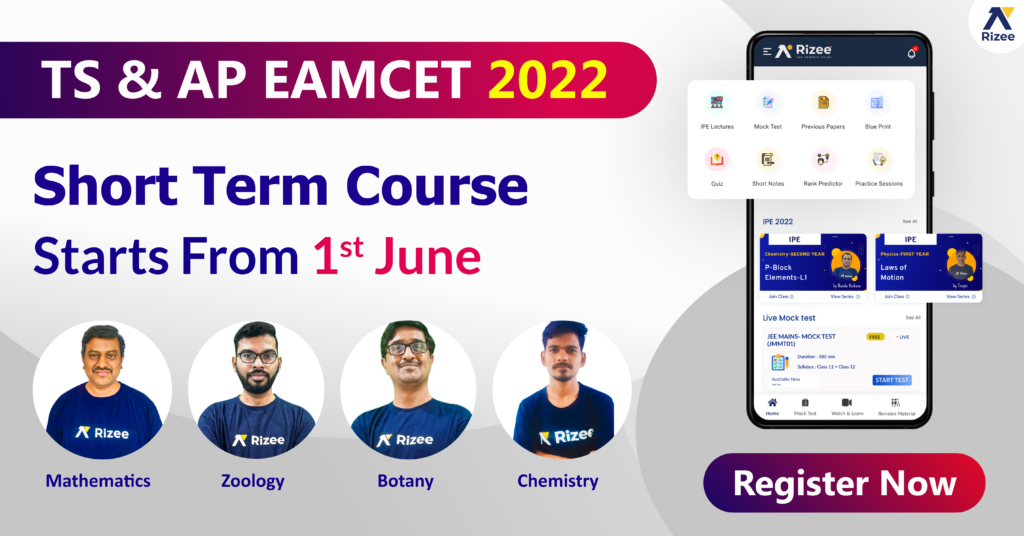 REDUCED SYLLABUS FOR AP/TS EAMCET-2022:
The syllabus of AP EAPCET and TS EAMCET is reduced to 30% due to pandemic.Go through the pdf to gain awareness of the shortened syllabus for each subject
AP/TS EAMCET SYLLABUS-2022:
Sign up with Rizee and stay up to date with all things EAMCET 2022.
TS MATHS SYLLABUS
| | |
| --- | --- |
| FIRST YEAR | SECOND YEAR |
| FUNCTIONS | COMPLEX NUMBERS |
| MATRICES | DE MOVIVRE'S THEORM |
| ADDITION OF VECTORS | QUADRATIC EQUATIONS |
| PRODUCT OF VECTORS | THEORY OF EQUATION |
| TRIGONOMETRIC RATIOS UPTO TRANSFORMATIONS | PERMUTATIONS AND COMBINATIONS |
| HYPERBOLIC FUNCTIONS | BINOMIAL THEORM |
| PROPERTIES OF TRIANGLES | PARTIAL FRACTIONS |
| LOCUS | MEASURES OF DISPERSION |
| TRANSFORMATION OF AXES | PROBABILITY |
| THE STRAIGHT LINE | RANDOM VARIABLES AND PROBABILITY DISTRIBUTIONS |
| PAIR OF STRAIGHT LINES | CIRCLE |
| THREE DIMENSIONAL COORDINATES | SYSTEM OF CIRCLES |
| DIRECTION COSINES AND DIRECTION RATIOS | PARABOLA |
| THE PLANE | ELLIPSE |
| LIMITS AND CONTINUITY | HYPERBOLA |
| DIFFERENTIATION | INTEGRATION |
| APPLICATIONS OF DERIVATIVES | DEFINITE INTEGRALS |
| | DIFFERENTIAL EQUATIONS |
TS PHYSICS SYLLABUS
| | |
| --- | --- |
| FIRST YEAR | SECOND YEAR |
| PHYSICAL WORLD | WAVES |
| UNITS AND MEASUREMENTS | RAY OPTICS AND OPTICAL INSTRUMENTS |
| MOTION IN A STRAIGHT LINE | WAVE OPTICS |
| MOTION IN A PLANE | ELECTRIC CHARGES AND FILEDS |
| LAWS OF MOTION | ELECTROSTATIC POTENTIAL AND CAPACITANCE |
| WORK, ENERGY AND POWER | CURRENT ELECTRICITY |
| SYSTEM OF PARTICLES AND ROTATIONAL MOTION | MOVING CHARGES AND MAGNETISM |
| OSCILLATIONS | MAGNETISM AND MATTER |
| GRAVITATION | ELECTROMAGNETIC INDUCTION |
| MECHANICAL PROPERTIES OF SOLIDS | ALTERNATING CURRENT |
| MECHANICAL PROPERTIES OF FLUIDS | ELECTROMAGNETIC WAVES |
| THERMAL PROPERTIES OF MATTER | DUAL NATURE OF RADIATION AND MATTER |
| THERMODYNAMICS | ATOMS |
| KINETIC THEORY | SEMICONDUCTOR ELECTRONICS : MATERIALS DEVICES |
| | COMMUNICATION SYSTEMS |
| | NUCLEI |
TS CHEMISTRY SYLLABUS
| | |
| --- | --- |
| FIRST YEAR | SECOND YEAR |
| ATOMIC STRUCTURE | SOLID STATE |
| CLASSIFICATION OF ELEMENTS AND PERIODICITY | SOLUTIONS |
| CHEMICAL BONDING AND MOLECULAR STRUCTURES | ELECTROCHEMISTRY AND CHEMICAL KINETICS |
| STATES OF MATTER GASES AND LIQUIDS | SURFACE CHEMISTRY |
| STOICHIOMETRY | GENERAL PRINCIPLES OF METTALLURGY |
| THERMODYNAMICS | P – BLOCK ELEMENTS |
| CHEMICAL EQUILIBRIUM AND ACIDS-BASES | D AND F BLOCK ELEMENTS & COORDINATION COMPOUNDS |
| HYDROGEN AND ITS COMPOUNDS | POLYMERS |
| S – BLOCK ELEMENTS (ALKALI AND ALKALINE EARTH METALS) | BIOMOLECULES |
| GROUP 2 ELEMENTS | CHEMISTRY IN EVERYDAY LIFE |
| P – BLOCK ELEMENTS GROUP 13 (BORON FAMILY) | HALOALKANES AND HALOARENES |
| P – BLOCK ELEMENTS GROUP 14 (CARBON FAMILY) | ORGANIC COMPOUNDS CONTAINING C, H, AND O |
| ORGANIC CHEMISTRY SOME BASIC PRINCIPLES AND TECHNIQUES AND HYDROCARBONS | ORGANIC COMPOUNDS CONTAINING NITROGEN |
TS BOTANY SYLLABUS
| | |
| --- | --- |
| FIRST YEAR | SECOND YEAR |
| THE LIVING WORLD | ENZYMES |
| BIOLOGICAL CLASSIFICATION | PHOTOSYNTHESIS IN HIGHER PLANTS |
| SCIENCE OF PLANTS – BOTANY | RESPIRATION IN PLANTS |
| PLANT KINGDOM | RESPIRATION IN PLANTS |
| MORPHOLOGY OF FLOWERING PLANTS | PRINCIPLES OF INHERITANCE AND VARIATION |
| MODES OF REPRODUCTION | MOLECULAR BASIS OF INHERITANCE |
| SEXUAL REPRODUCTION IN FLOWERING PLANTS | BIOTECHNOLOGY PRINCIPLES AND PROCESSES |
| TAXONOMY OF ANGIOSPERMS | BIOTECHNOLOGY AND ITS APPLICATIONS |
| CELL : THE UNIT OF LIFE | MICROBES IN HUMAN WELFARE |
| BIOMOLECULES | |
| CELL CYCLE AND CELL DIVISION | |
| HISTOLOGY AND ANATOMY OF FLOWERING PLANTS | |
| ECOLOGICAL ADAPTATIONS, SUCCESSION AND ECOLOGICAL | |
TS ZOOLOGY SYLLABUS
| | |
| --- | --- |
| FIRST YEAR | SECOND YEAR |
| DIVERSITY OF LIVING WORLD | HUMAN ANATOMY AND PHYSIOLOGY |
| STRUCTURAL ORGANIZATION IN ANIMALS | HUMAN ANATOMY AND PHYSIOLOGY II |
| ANIMAL DIVERSITY – I (INVERTEBRATE PHYLUM) | HUMAN ANATOMY AND PHYSIOLOGY III |
| ANIMAL DIVERSITY – II (CHORDATA PHYLUM) | HUMAN ANATOMY AND PHYSIOLOGY IV |
| LOCOMOTION AND REPRODUCTION | HUMAN ANATOMY AND PHYSIOLOGY V |
| BIOLOGY IN HUMAN WELFARE | GENETICS |
| PERIPLANETA AND AMERICANA | ORGANIC EVOLUTION |
| ECOLOGY AND ENVIRONMENT | APPLIED BIOLOGY |
AP MATHS SYLLABUS
| | |
| --- | --- |
| FIRST YEAR | SECOND YEAR |
| FUNCTIONS | COMPLEX NUMBERS |
| MATRICES | DE MOVIVRE'S THEORM |
| ADDITION OF VECTORS | QUADRATIC EQUATIONS |
| PRODUCT OF VECTORS | THEORY OF EQUATION |
| TRIGONOMETRIC RATIOS UPTO TRANSFORMATIONS | PERMUTATIONS AND COMBINATIONS |
| HYPERBOLIC FUNCTIONS | PARTIAL FRACTIONS |
| PROPERTIES OF TRIANGLES | MEASURES OF DISPERSION |
| LOCUS | PROBABILITY |
| THE STRAIGHT LINE | RANDOM VARIABLES AND PROBABILITY DISTRIBUTIONS |
| PAIR OF STRAIGHT LINES | CIRCLE |
| THREE DIMENSIONAL COORDINATES | SYSTEM OF CIRCLES |
| DIRECTION COSINES AND DIRECTION RATIOS | PARABOLA |
| THE PLANE | ELLIPSE |
| LIMITS AND CONTINUITY | HYPERBOLA |
| DIFFERENTIATION | INTEGRATION |
| APPLICATIONS OF DERIVATIVES | DEFINITE INTEGRALS |
| | DIFFERENTIAL EQUATIONS |
AP PHYSICS SYLLABUS
| | |
| --- | --- |
| FIRST YEAR | SECOND YEAR |
| PHYSICAL WORLD | WAVES |
| UNITS AND MEASUREMENTS | RAY OPTICS AND OPTICAL INSTRUMENTS |
| MOTION IN A STRAIGHT LINE | WAVE OPTICS |
| MOTION IN A PLANE | ELECTRIC CHARGES AND FILEDS |
| LAWS OF MOTION | ELECTROSTATIC POTENTIAL AND CAPACITANCE |
| WORK, ENERGY AND POWER | CURRENT ELECTRICITY |
| SYSTEM OF PARTICLES AND ROTATIONAL MOTION | MOVING CHARGES AND MAGNETISM |
| OSCILLATIONS | MAGNETISM AND MATTER |
| GRAVITATION | ELECTROMAGNETIC INDUCTION |
| MECHANICAL PROPERTIES OF SOLIDS | ALTERNATING CURRENT |
| MECHANICAL PROPERTIES OF FLUIDS | ELECTROMAGNETIC WAVES |
| THERMAL PROPERTIES OF MATTER | DUAL NATURE OF RADIATION AND MATTER |
| THERMODYNAMICS | ATOMS |
| KINETIC THEORY | SEMICONDUCTOR ELECTRONICS : MATERIALS DEVICES |
| | COMMUNICATION SYSTEMS |
| | NUCLEI |
AP CHEMISTRY SYLLABUS
| | |
| --- | --- |
| FIRST YEAR | SECOND YEAR |
| ATOMIC STRUCTURE | SOLID STATE |
| CLASSIFICATION OF ELEMENTS AND PERIODICITY | SOLUTIONS |
| CHEMICAL BONDING AND MOLECULAR STRUCTURES | ELECTROCHEMISTRY AND CHEMICAL KINETICS |
| STATES OF MATTER GASES AND LIQUIDS | SURFACE CHEMISTRY |
| STOICHIOMETRY | P – BLOCK ELEMENTS |
| THERMODYNAMICS | D AND F BLOCK ELEMENTS & COORDINATION COMPOUNDS |
| CHEMICAL EQUILIBRIUM AND ACIDS-BASES | BIOMOLECULES |
| HYDROGEN AND ITS COMPOUNDS | CHEMISTRY IN EVERYDAY LIFE |
| S – BLOCK ELEMENTS (ALKALI AND ALKALINE EARTH METALS) | HALOALKANES AND HALOARENES |
| P – BLOCK ELEMENTS GROUP 13 (BORON FAMILY) | ORGANIC COMPOUNDS CONTAINING C, H, AND O |
| P – BLOCK ELEMENTS GROUP 14 (CARBON FAMILY) | ORGANIC COMPOUNDS CONTAINING NITROGEN |
| ORGANIC CHEMISTRY SOME BASIC PRINCIPLES AND TECHNIQUES AND HYDROCARBONS | |
AP BOTANY SYLLABUS
| | |
| --- | --- |
| FIRST YEAR | SECOND YEAR |
| THE LIVING WORLD | ENZYMES |
| BIOLOGICAL CLASSIFICATION | PHOTOSYNTHESIS IN HIGHER PLANTS |
| SCIENCE OF PLANTS – BOTANY | RESPIRATION IN PLANTS |
| PLANT KINGDOM | STRATEGIES FOR ENHANCEMENT IN FOOD PRODUCTION |
| MORPHOLOGY OF FLOWERING PLANTS | PRINCIPLES OF INHERITANCE AND VARIATION |
| MODES OF REPRODUCTION | MOLECULAR BASIS OF INHERITANCE |
| SEXUAL REPRODUCTION IN FLOWERING PLANTS | BIOTECHNOLOGY PRINCIPLES AND PROCESSES |
| TAXONOMY OF ANGIOSPERMS | BIOTECHNOLOGY AND ITS APPLICATIONS |
| CELL : THE UNIT OF LIFE | MICROBES IN HUMAN WELFARE |
| BIOMOLECULES | TRANSPORT IN PLANTS |
| CELL CYCLE AND CELL DIVISION | MINERAL NUTRITION |
| HISTOLOGY AND ANATOMY OF FLOWERING PLANTS | PLANT GROWTH AND DEVELOPMENT |
| ECOLOGICAL ADAPTATIONS, SUCCESSION AND ECOLOGICAL | BACTERIA |
| | VIRUS |
AP ZOOLOGY SYLLABUS
| | |
| --- | --- |
| FIRST YEAR | SECOND YEAR |
| DIVERSITY OF LIVING WORLD | HUMAN ANATOMY AND PHYSIOLOGY |
| STRUCTURAL ORGANIZATION IN ANIMALS | HUMAN ANATOMY AND PHYSIOLOGY II |
| ANIMAL DIVERSITY – I (INVERTEBRATE PHYLUM) | HUMAN ANATOMY AND PHYSIOLOGY III |
| ANIMAL DIVERSITY – II (CHORDATA PHYLUM) | HUMAN ANATOMY AND PHYSIOLOGY IV |
| LOCOMOTION AND REPRODUCTION | HUMAN ANATOMY AND PHYSIOLOGY V |
| BIOLOGY IN HUMAN WELFARE | GENETICS |
| PERIPLANETA AND AMERICANA | ORGANIC EVOLUTION |
| ECOLOGY AND ENVIRONMENT | APPLIED BIOLOGY |