NEET 2021: Anticipated Questions, DO's and Dont's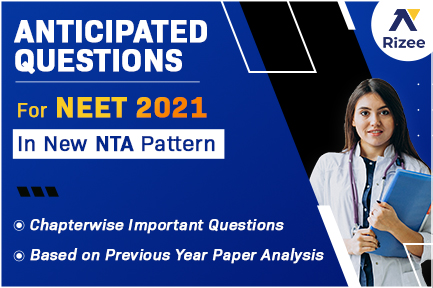 NEET 2021 is a national level exam conducted for admission to medical and dental courses. This year the exam is scheduled for September 12, 2021 It will be a pen-paper based exam with objective type questions. There will be 45 questions each from Physics, Chemistry, Zoology, and Botany. The paper will be of 3 hours duration. The exam will be held in 11 regional languages, English and Hindi. Candidates who opt for regional language will be given a bilingual question booklet selected regional language and English.
NEW NTA PATTERN FOR NEET 2021 :
1)For each subject – Physics, Chemistry, Botany, Zoology– the NEET question paper would comprise two sections: Section A and Section B
2)Section A of the NEET question paper, in each subject, would have 35 questions and each question will carry 4 marks.
3)Section B of the NEET question paper, in each subject, would have 15 questions and candidates can attempt any 10 of those. Each question will carry a total of 4 marks.
4)So, in section B of each subject candidates will be given 5 additional questions to choose from and answer.
5)This is very much similar to the board exam question papers where internal choices are provided in each mark category.
6)There will be a negative marking of 1 mark for an incorrect answer
Rizee is helping NEET 2021 Aspirants to crack exam with ease by providing
1) Anticipated Questions for NEET 2021 :
Rizee's anticipated Questions are based on NEET Previous Year Question papers analysis & based on the trend of questions asked in NEET Question Papers. Expert faculty at Rizee has successfully predicted more than 50% of Chapters asked in NEET Previous Year Question Papers.
Click Here To Download Questions Subject Wise :
2.) Rapid Revision for NEET 2021 :
Live classes by experts with Daily 4 hours of concept classes
Live mentor sessions with experts from Top Medical Colleges
Live doubts clarification by experts during the class
Expected questions from important topics
Achieve optimum time management.
Important concept classes based on previous papers
Weekly Cumulative Tests
Cumulative Tests on new NTA pattern
Premium Mock Tests
Detailed Analysis of Results After Every Exam
12 sets of papers. 2400 Questions. 100 Questions per day
Grand Mock Test
Anticipated questions from our previous years paper analysis for NEET 2021
Custom tests based on previous year papers
Important questions from important topics discussed in detail during live classes
NCERT based important questions
Tricks to solve application questions in a quick manner
Zoology :
Botany :
Chemistry :
Physics :
Do check out our Custom Exam, Previous Paper Analysis and Revision Material for your perfect exam preparation.
3.) DO's and DON'Ts for NEET 2021

Do's for NEET :
* The exam pattern of NEET must all be familiarised by the candidates in order to be well versed with the same.
* Checking for the mistakes on admit card, carrying id proof and other stationery items with photo proofs
* Focusing on the revision sticking to the syllabus topics
* Preparing a 2 day final timetable
* Maintain calm and proper sleep and taking healthy diet
* Reaching the test center at least before 1 hour

Don'ts for NEET :
* Don't compare with anyone
* Don't discuss any of preparation at the test center
* Don't waste time on doubtful questions, can be reviewed after you complete all the questions
* Don't study till the last minute as it creates tension
* Don't attempt to note down questions on admit card / any paper carried to center
* Don't discuss with fellow candidates , take help of invigilators for any assistance