How To Prepare For Jee Mains 2021 With Self-Study & Practice Tests.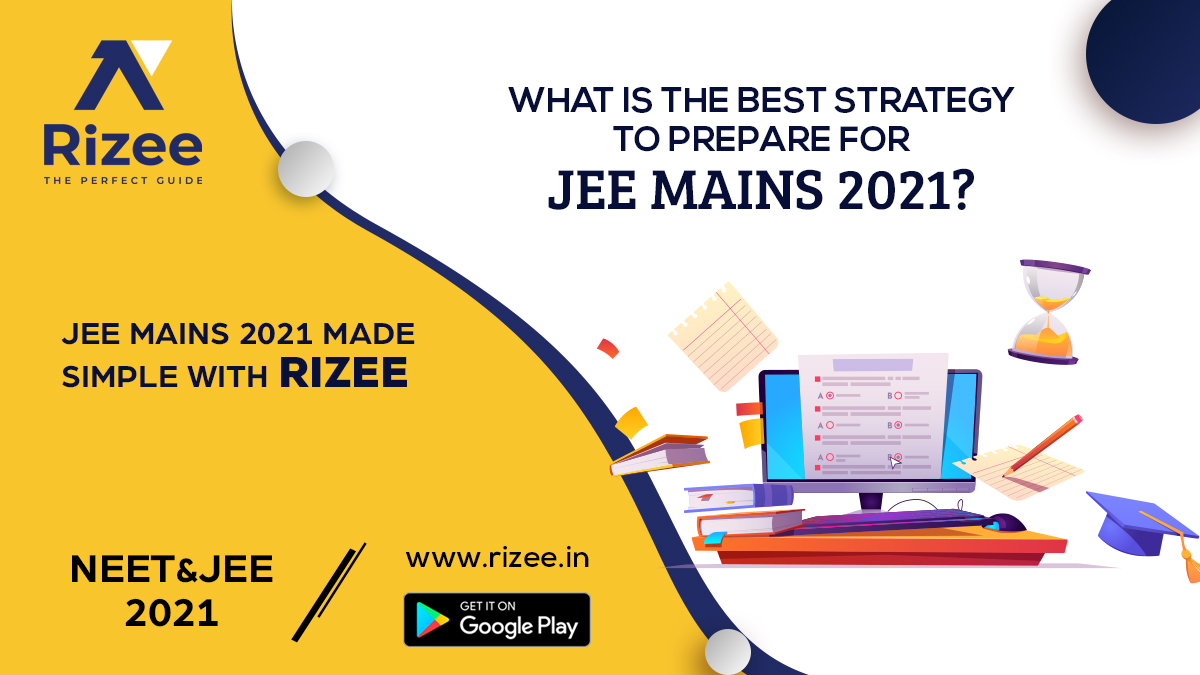 Great success stories often have years of planning & hard work behind them, students preparing for JEE Mains 2021 know the importance of hard work but many lack the vision to realize the importance of planning. When you have a good plan worked out for you, your preparation no longer has to be hard work, instead, you end up doing SMART work.
After due consultation with experienced faculty & educational institutions, RIZEE has chalked up a perfect preparation cycle of students for JEE MAINS PREPARATION 2021. Register now to see the unique features that helps you to score higher
THE FOUR STAGES OF PREPARATION FOR EVERY JEE STUDENT
PLAN
Planning for any examination typically starts with the rush to collect resources, making a time table and deciding on which subjects & chapters to focus on, etc. But many students end up exhausted, confused, and directionless after a few days of preparation.
How can Previous Years Paper Analysis help with your PLANNING for JEE Mains 2021?
When people say that CRACKING JEE MAINS is very difficult, it is because they have never done the previous year's paper analysis. A quick go through RIZEE previous year's paper analysis of JEE MAINS shows you that 70-80% of questions asked in JEE Mains to date were Easy & Moderate to attempt by an average student.
So, in reality, it is the high competition and lack of proper guidance that makes you think, "JEE MAINS is a difficult exam."
So, we suggest you start planning for your examination after Analysing Previous years papers and gaining insights on the number of questions asked from each chapter & topic of a subject; based on difficulty level; chapters that were frequently asked in Multi-concept questions; different types of questions-based on formula, graphs, diagrams; how many questions were concept based and application-based- make use of the different data parameters available in RIZEE's previous paper analysis section.
EXECUTE
Execution is where things start to get intense and the exam anxiety starts after frequent failures to implement the PLAN. Now that you have gained valuable insights from previous paper analysis, it is time for the smart execution of PLAN.
How Can Customized Practice Tests Help You with the EXECUTION of the PLAN?
Practice Tests play a deciding role in your entire preparation cycle. Without having a strict schedule for practice tests, the chances of CRACKING JEE is very low, and this is true for any competitive examinations. RIZEE came up with a solution to assist students with uniquely designed customized tests.
Create a custom exam on RIZEE and select the subjects & chapters that you want to take a test on that day. Make use of the crisp & concise Short notes for your chapter specific preparation. Get ready for your final exam by practicing from cumulative, semi grand & grand tests.
With 𝐑𝐈𝐙𝐄𝐄'𝐬 𝐜𝐮𝐬𝐭𝐨𝐦 𝐞𝐱𝐚𝐦𝐬 𝐨𝐩𝐭𝐢𝐨𝐧, you can now choose to 𝐬𝐭𝐚𝐫𝐭 𝐲𝐨𝐮𝐫 𝐞𝐱𝐚𝐦 𝐩𝐫𝐚𝐜𝐭𝐢𝐜𝐞 𝐰𝐢𝐭𝐡 𝐞𝐚𝐬𝐲 𝐪𝐮𝐞𝐬𝐭𝐢𝐨𝐧𝐬 and build-up your confidence for handling 𝐦𝐨𝐝𝐞𝐫𝐚𝐭𝐞 & 𝐝𝐢𝐟𝐟𝐢𝐜𝐮𝐥𝐭 𝐪𝐮𝐞𝐬𝐭𝐢𝐨𝐧𝐬 which helps to crack JEE Mains 2021 easily.
MEASURE
Running without calculating speed & distance is good for health but when it comes to a race speed & distance are all that matters.
One of the key challenges students face in the examination is time management. There is no point in spending 3 minutes on a question that even toppers can't answer. This is where Reports & Analysis come into play- get full insights on the number of questions attempted, the accuracy of attempts from each chapter & subject, the time you are consuming for each question based on difficulty level, your strengths & weakness, comfort & pain areas in the syllabus.
ERROR EXAM – is a unique feature developed by RIZEE for students to take separate exams on errors or incorrect attempts from the previous tests, all categorized again based on subjects, chapters & topics. Never repeat your mistakes again and add notes within the app on why you have got the incorrect answer.
WARM-UP
Every JEE aspirant dreams of a platform that helps them in the last stage of preparation. A platform where you have all your performance reports just a click away and Revision notes right next to quickly revise and overcome the exam day anxiety.
Well, RIZEE has it all– throw away your unorganized bundles of papers and go for the smart revision with revision material on Rizee. Formulas, properties, diagrams, derivatives, experiments, graphs, reactions, examples, etc- all just a click away for you.
RIZEE is India's most upcoming one-stop exam preparation platform (Android App & Web Dashboard) for JEE & NEET students & educational institutions. Visit our website to know more about the unique features & solutions offered by the Creative Team at RIZEE.