AP EAPCET – TS EAMCET – 2022 – SYLLABUS – EXAM DATES – SAMPLE QUESTION PAPERS – STRATEGIES – SELF STUDY – CRASH COURSE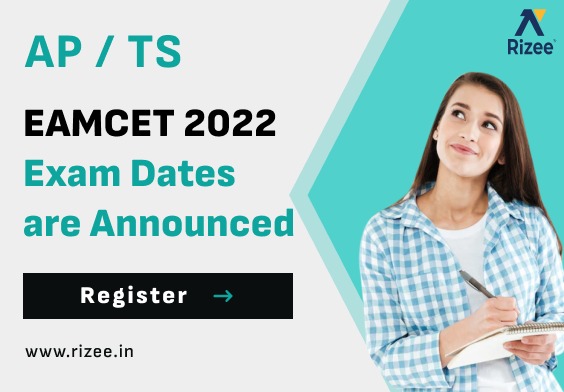 Engineering Agriculture and Medical Common Entrance Test (EAMCET) is one of the toughest State – wide competitive examinations of Telangana & Andhra Pradesh. Students of diverse streams like Engineering, Agriculture and Medical must give an attempt to secure a seat in the universities of state government.
AP EAPCET Exam Dates, Syllabus & Sample Question Paper:
AP EAMCET (EAPCET) 2022 will be conducted by JNTU in the month of July 2022 through online mode.
Engineering Streams: July 4th to July 8th (9 A.M to 12 P.M and 3 P.M to 6 P.M)
Medical and Agriculture Streams: July 11th (9 A.M to 12 P.M and 3 P.M to 6 P.M), July 12 (9 A.M to 12 P.M)
ENGINEERING:
AGRICULTURE AND PHARMACY:
Telangana State EAMCET Syllabus & Sample Question Paper:
The Telangana State Council of Higher Education (TSCHE) has released the TS EAMCET exam dates 2022 on the official website – tsche.ac.in.
Engineering:
Agriculture and Pharmacy:
Telangana State EAMCET Dates:
Medical and Agriculture Streams : July 14 (9 A.M to 12 P.M and 3 P.M to 6 P.M), July 15 (9 A.M to 12 P.M)
Engineering : July 18, 19 and 20 (9 A.M to 12 P.M and 3 P.M to 6 P.M)
For Telangana EAMCET, application need to be done through online from 06th April, 2022 to 28th May, 2022.
While, the big news that the APSCHE & TSCHE has announced is the deletion of 25% IPE weightage for EAMCET 2022.
Application Forms:
Steps Before Exam on Exam Day:
Candidate should report at exam center at least two hours before the commencement of the test as per the date and time mentioned in Hall Ticket.
2. Candidates will not be allowed into the exam center even if they are late by one minute after the commencement of the test.
3. Hall Ticket and Filled in application form will be verified at the entrance of the exam center.
4. Exam officials will take candidate's biometrics (Photograph and Finger Print) Invigilators will guide the candidate to the respective computer allotted to them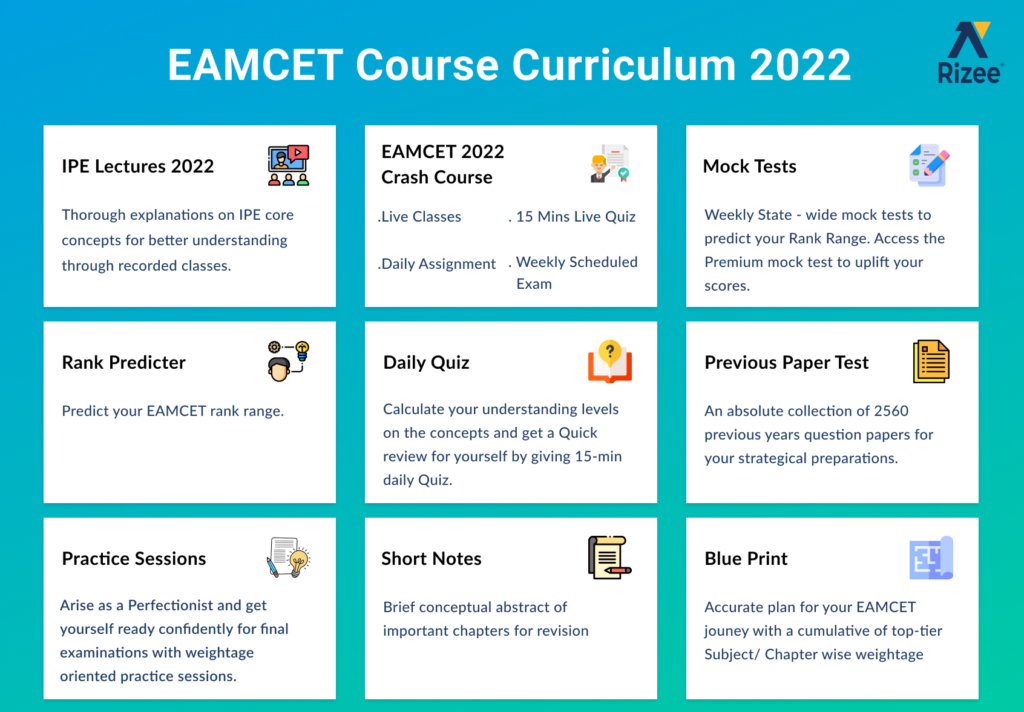 As the hours of the exam are approaching soon, we need some strategies for our preparation rather than preparing blindly. Here are some tips and important suggestions to crack the EAMCET 2022:
1. How IPE lecture series help in EAMCET preparation:
Rizee lecture series are compiled with the core concepts of state text book syllabus that benefit the EAMCET preparation and the recorded video lectures are available https://rizee.in/EAMCET/ for anytime reference.
2. Rizee Mock Tests:
We provide Weekly State – wide mock tests and Premium mock tests to analyse your solving skills and help you improve in the weaker sections.
https://rizee.in/EAMCET/?src=blog
3. Is solving Previous Paper Tests important?
Every year, Most of the questions of EAMCET are the same with just the numerical differences. Rizee has an absolute collection of 2560 previous years question papers for your strategic preparations.
https://rizee.in/EAMCET/?src=blog
4. Blue Print & Short Notes
Based on the analysis of previous year questions and weightage, Rizee has released a Blueprint for the chapters that requires more focus. Brief conceptual abstract of important chapters for revision.
5. Are daily Quizzes needed?
They are needed to boost your confidence levels everyday and motivate you to work harder. Give a Quick review for yourself by attempting a 15-min daily Quiz.
6. EAMCET crash course
Rizee designed an EAMCET crash course with experts to overcome the factor of limited-time with unlimited syllabus. It mainly focuses on important topics on the basis of weightage to make you exam ready within a very short period.
https://rizee.in/EAMCET/?src=blog
7.Why you need EAMCET 2022 Crash Course:
It is a must to score high in EAMCET. Coverup the vast syllabus, Speed up your revision with Live classes, daily assignments, 15 min – Live quizzes and weekly scheduled exams and score more than you expect.
https://rizee.in/EAMCET/?src=blog
8. Want to know what rank you are going to hold?
It's very important to know where you stand currently, to improve your hardwork and scoring levels. Predict your EAMCET rank range by giving Mock tests with Rizee.