What you shouldn't do? Top common mistakes you should avoid in NEET/JEE preparation.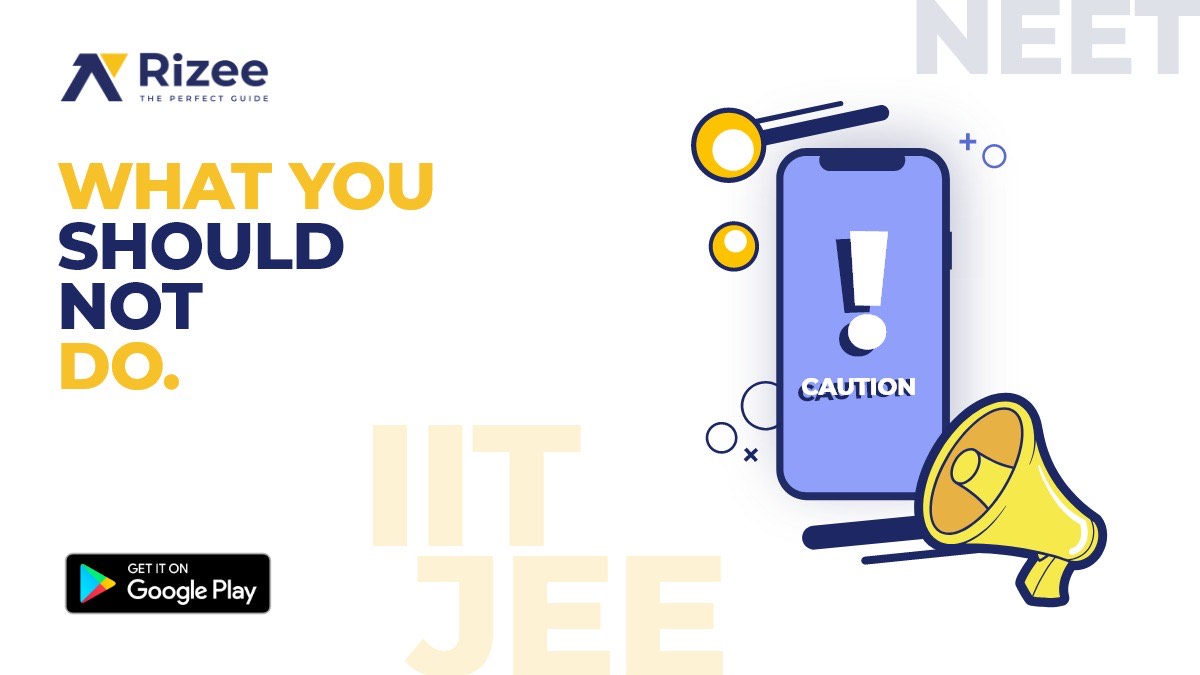 "It's good to learn from your mistakes. It's better to learn from other people's mistakes"- Warren Buffet.
Many students who prepare for NEET and JEE and don't get the expected results look back to their preparation and realize all the mistakes they made. In this post we'll discuss a few common mistakes and how you can avoid repeating the same errors during preparation and exams to achieve the best results.
Top Common Mistakes in NEET/JEE Preparation:
1. Not being thorough with the basics:
Students should start using practice material and other reference material only after they are thorough with the basics in IPE textbooks. Since the syllabus includes chapters from class  XI, ensure you pay equal attention and revise these topics along with class XII syllabus. Preparation without being thorough with the basics will not be effective as you may not understand the concepts and this may lead to mugging up or method based approach.
Check out the revision feature on Rizee app.
2. Neglecting Error Analysis:
Generally, students don't realise the scope of learning from mistakes they commit during mock tests and practice tests. Make it a habit to do error analysis after each exam, attempt error tests and ensure you don't  repeat the same mistakes in the next test. This way, you can understand your weak areas, unknown concepts and work on them. By the time you attempt your final exam, most of your weak areas will improve.
With the Unique Error Test feature on Rizee app, you can attempt tests consisting of questions you answered incorrectly in the previous tests. This is a great way to learn.
3. Using too many books/ resources:
Many students ignore IPE textbooks and use a lot of other resources for preparation. First be thorough with your IPE textbooks and stick to minimum resources which provide all the necessary information and features for a stress-free and effective usage of time. Switching between a number of books and resources for different topics will consume a lot of time and result in confusion.
Apps like Rizee provide all the necessary information and features required for effective preparation. Download the app now!
4. Negligence while reading questions and instructions:
One silly mistake many students make in exams is not reading the questions properly  and also marking the answer of one question against other question numbers. Students are in a rush during exams and miss crucial details about a question resulting in a wrong answer. With negative marking included, greater emphasis should be on the number of questions answered correctly rather than the total number of questions answered. So, don't be in a hurry to answer as many questions as possible, be focussed while reading a question and mark the answers against the correct question number.
5. Over/ Under Confidence:
Last but not least, overconfidence and doubting yourself are the biggest mistakes students commit. Don't ever doubt your abilities, don't give room to self doubt. This can result in anxiety and excessive nervousness which will hinder your performance in the exam. At the same time, don't be overconfident about your capability and act carelessly in your exams. Always give your best and stay positive about the result.