Top 5 Tips and Tricks to Crack NEET & JEE 2020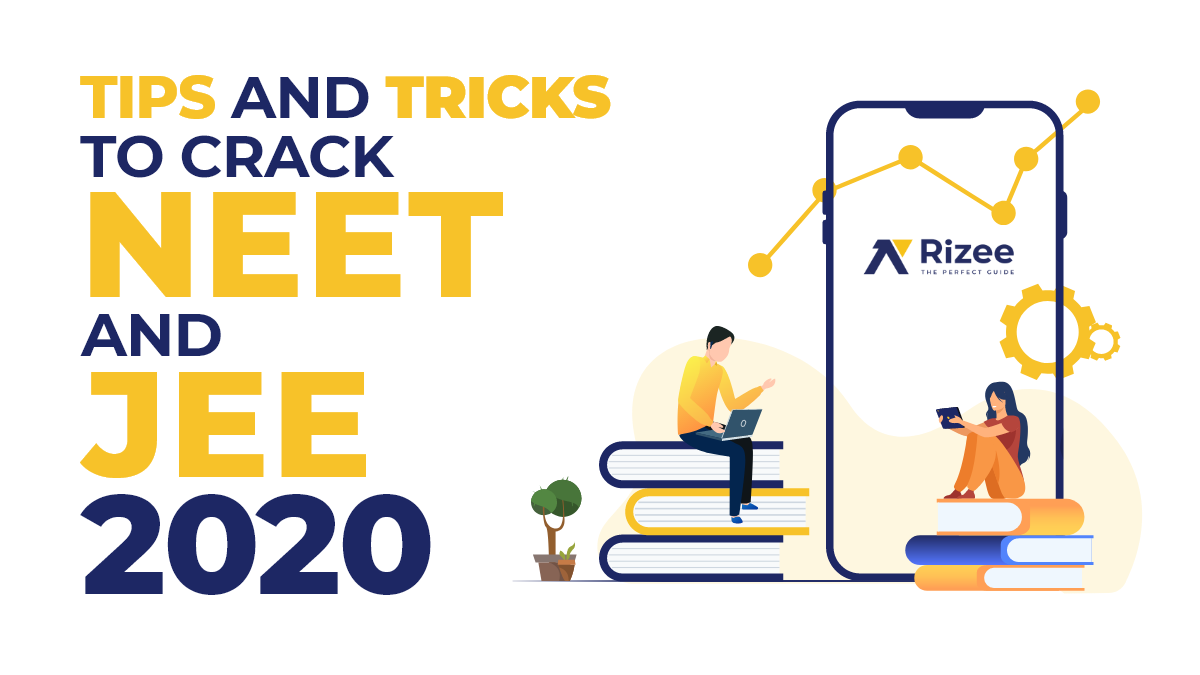 The COVID 19 pandemic is an unprecedented crisis and we're all figuring out how to respond to it. The nationwide lockdown followed by cancellation of NEET & JEE exams and complete shutting down of educational institutions threw millions of student's academic schedules into disarray. The world has paused and most of our activities have stopped but don't let this situation dishearten you. We all know this is going to end soon, so don't let Covid 19 stop your learning!
Moreover, with new proposed dates between July 18-23rd, students have more time to prepare for exams. Here are some of the best practices that are very crucial, especially in the last few months that will equip you to give your best in exams:
The Rizee app offers valuable insights, facilitates you with all necessary sources and acts as a Perfect guide to help you give your best!
Let's go through Top 5 tips and tricks to crack NEET and JEE 2020 :
Extensive Revision
How much ever you learn, your preparation is going to be incomplete without revision.
To make your preparation smooth, less stressful and more effective, revise as much as you can and practice for perfection. Don't allot time to learn new concepts but rather revise what you have already learnt. Proper revision techniques can boost your confidence. The Rizee app gives you easy access to revision material like short notes,formulae etc. and allows you to revise the subject lessons with customized practice
sessions.
Attempt mock tests
Sometimes being thorough with the syllabus alone may not be enough to crack the exam. Time and pressure management are equally important to give your best. Attempt mock tests to get familiar with the exam pattern, to test your knowledge, analyse time and pressure management. With the help of this you can learn to solve questions in less time which is very vital. This is the best way to plan your further preparation.
Solve previous year question papers
Before the final exams, make sure you solve question papers of the previous years. While questions may not be directly repeated, most of the concepts will have direct application. This will make you familiar with the kind of questions asked, topic-wise marks distribution, exam pattern, time allotment etc and ultimately will enhance your performance.
The Rizee app enables you to take scheduled tests, practice previous year question papers, customise your own exams based on chapter, concept-application, complexity and question type, everything at your own convenience just a click away! It also gives  detailed analysis reports which helps you analyse your subject strength, complexity strength, and accuracy levels and specifies your weak areas.
Learn from your mistakes
Mistakes are your greatest learning kits. "I saw this question in the mock test, should've learned how to solve it at least then" – I'm sure you might have felt like this at least once during your exams. The best way to fetch marks is to not repeat mistakes. Learn concepts and become thorough in your weak areas by doing proper error analysis and solving error questions. This way you can cover almost all the concepts that are new to you or weak at. Remember committing a mistake is not a mistake but committing the same mistakes twice is actually a mistake. The Rizee app facilitates you to create an exam consisting of questions that you went wrong or couldn't solve earlier.
Have a positive attitude and confidence
Last but not least, have faith in you, don't stress yourself and always be confident. Make sure you take out some time from your daily schedule to exercise, relax, rejuvenate and spend time with your family to stay positive and motivated. Don't take preparation as a burden but try to enjoy learning and enjoy the process.
So, don't wait any further! Download the Rizee app today and start preparing today!