Tips to keep your Child Motivated for NEET and JEE exams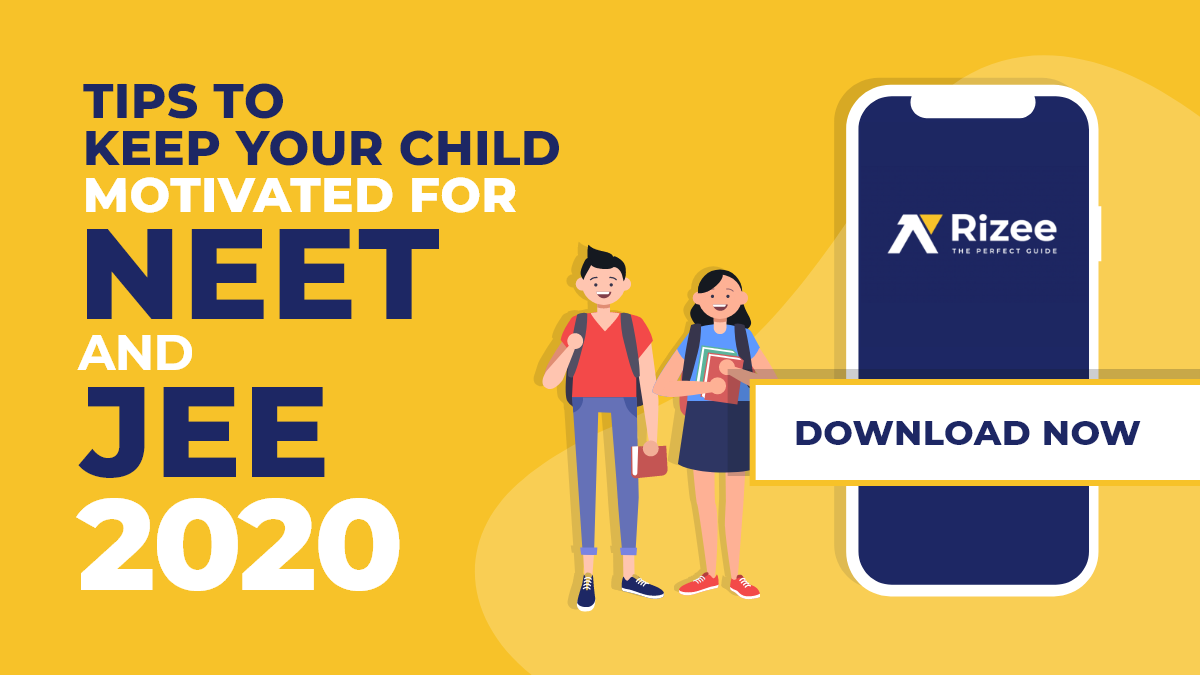 While uncertainty over JEE Mains and NEET 2020 examinations continues to prevail, the raise in mental pressure, stress and anxiety among students is apparent. With lockdown restrictions in place and students spending most of their time indoors with family, parents should take the major responsibility to check on their children, to support them in this battle completely and at the same time keep them motivated and exam ready.
Every parent wants their children to be the best and have high expectations on them to crack NEET and JEE with high marks. But in this process, little do they know that by pressurizing their children, they are actually making the student's journey more difficult and stressful. Especially in this current world scenario, it is very important for parents to provide a healthy, supportive and a stress-free environment for their children. Here are a few tips crafted by the Rizee team that you can follow to ensure the same.
Tips to keep your Child Motivated for NEET and JEE exams:
Provide high quality learning resources:
The first step towards a  hassle free effective preparation is to choose and introduce your child to the right learning platform. NEET and JEE being quite familiar, there's abundance of information, resources and platforms available everywhere. Sometimes too much information will do no good instead result in ending up in more confusion. 
Selecting and using a single effective platform with the right strategy, essential information, features and material will help your child stay focused and stress-free. Spend time on research, understand your child's needs, learning habits, gaps and choose a platform that will meet all your needs. Remember that to their best in the exams, learning and being thorough with the subjects is not enough, your child has to be equally familiar with the exam pattern and time management.
The Rizee app designed while keeping in mind all possible needs of a NEET and JEE student with enough emphasis on Learning new concepts, Revision, Mock tests, Error exams and Analysis, Time management will act as the Perfect Guide for your child's effective preparation.
You can download the app here.
Foster Consistency:
As the exam dates keep getting postponed by months, students have a lot of extra time in their hands. In such cases, it is natural for them to feel bored of the subjects, to feel lazy, demotivated and slightly overconfident. They might tend to postpone study time and get distracted from their regular practice schedule. While this may not seem a serious issue at the moment, inconsistency on the long run is not very easy to tackle. It is acceptable that due to the current situations, studying for long periods of time that too the same syllabus for months is not that easy but make sure your child studies everyday at least for sometime. If they are not at all in the mood, encourage them to just revise or solve a mock test. This habit will go a long way in helping them to not deviate from goals, increasing their will power, confidence and readiness for the exams.
Stop Comparing:
Most of the time, parents are unaware of the impact comparison with peers has on their child. Comparison will lower your child's confidence level and self-esteem. As a parent, you should recognise your child's uniqueness and talent, make them feel special, admire and encourage them. This will fill them with renewed confidence, zeal and a desire to achieve goals. 
The only criteria you should consider comparing is your child's performance day by day. Evaluate and provide necessary resources for your child to get better everyday. With features like Track and Analysis in Rizee, you can keep a track of your child's progress from time to time.
Instill healthy lifestyle and eating habits:
They say " You are what you eat". Healthy, nutritious food can keep your child's mind and body healthy, light and sharp. Equally important is sleep. Inculcate the habit of sleeping 6-7hrs a day in your child's schedule to avoid feeling dizzy and lazy in the day. Meaningful practices like exercising regularly, eating meals together, not talking about studies while eating, a walk before going to bed, prep talks can really help your child feel stress free, motivated, healthier and happier. 
Positive Pushing:
Pushing kids without pushing too hard is very important. Most of the time, students need a positive push to go ahead and achieve their goals. But too much pushing can result in stress, irritation and losing interest. Understand and learn to put just the right amount of pressure and your child will thank you later. 
With thoughtfully crafted apps like Rizee by your side, make these tough times stress-free for your child.