How to get an TS EWS Certificate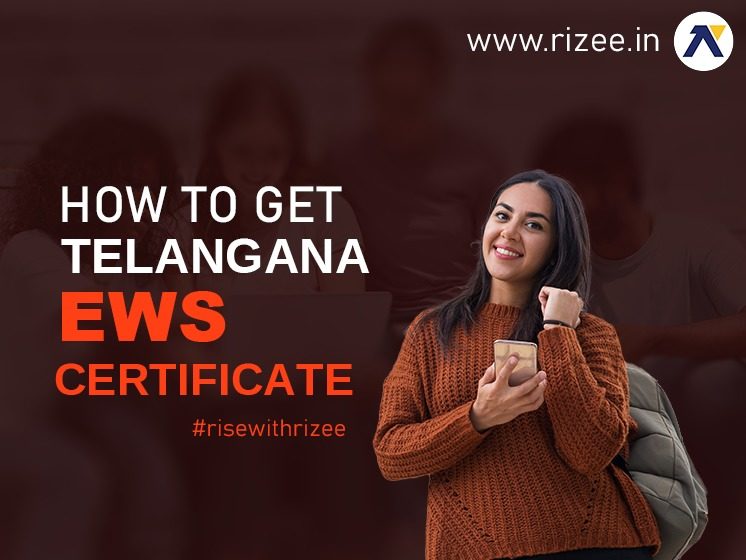 Eligibility Criteria for EWS Certificate
Candidates must belong to General Category or Caste according to the central government of India. There are no age limitations criteria to apply for an EWS Certificate.
Persons who are not covered under the scheme of reservation for SCs, STs, and OBCs and whose family has a gross annual income below Rs 8 lakh (Rupees eight lakh only) are to be identified as EWSs for benefit of reservation.
Income shall also include income from all sources i.e. salary, agriculture, business, profession, etc. for the financial year prior to the year of application.
Also, persons whose family owns or possesses any of the following assets shall be excluded from being identified as EWS, irrespective of the family income: –
You should belong to the General Caste.
Family Income should be less than 8 lakhs.
The family's Agricultural Land Area should be less than 5 Acres.
Family's Residential Flat Area should be less than 1000 sq.ft
Family's Residential Plot Area should be less than 100 sq.yards (Notified Municipalities)
Family's Residential Plot Area should be less than 200 sq.yards (Other than the notified municipalities)
Note: The above-mentioned eligibility criteria to get EWS Reservation are given by the Central Government of India. Different states of India can set their own Income cut-off to decide who can constitute EWS.
How can you claim the benefit of EWS reservation?
You need to get an "Income and Asset Certificate" from the concerned government authority (Eg: Tehsildar).
The benefit of reservation under EWS can be availed upon production of an Income and Asset Certificate issued by a Competent Authority.
The Income and Asset Certificate issued 'by any one of the following authorities in the prescribed format shall only be accepted as proof of the candidate's claim as 'belonging to EWS.
EWS Certificate Issuing Authorities
Here we have listed the names of all the authorities who has been identified for the issue of the EWS Certificate:
District Magistrate/Additional District Magistrate/ Collector/ Deputy Commissioner/Additional Deputy Commissioner/ 1st Class Stipendiary Magistrate/ Sub-Divisional Magistrate/ Taluka Magistrate! Executive Magistrate/ Extra Assistant Commissioner
Chief Presidency Magistrate/Additional Chief Presidency Magistrate/ Presidency Magistrate
Revenue Officer not below the rank of Tehsildar
Sub-Divisional Officer or the area where the candidate and/or his family
normally resides.
Documents Required for EWS Certificate
Candidates must get ready these documents before EWS Certificate Application Form:
Aadhaar Card (mandatory)
Income Certificate (mandatory)
Pan Card (mandatory)
Caste Certificate
BPL Card
Bank Statement
Affidavit/ Self Declaration
Recent Passport size photo
Other relevant documents
The list of documents mentioned above varies from state to state as per their rules. Therefore applicants are advised to visit the EWS certificate issuing authority and collect all Important Information.
How to apply for an EWS Certificate?
EWS Certificate applications can be filled online or offline in different states of India. To fill EWS application in offline mode, candidates have to follow these processes mentioned below:
Download the EWS Certificate Form PDF by the link provided below.
Fill up all the required information.
Paste a passport size photograph.
Attach all the required documents.
Submit this application to your nearest Tehsil/Block Office. or
You can contact your nearest CSC (Common Service Center) or Jan Sewa Kendra and apply from there to get an EWS Certificate soon.
EWS Certificate Application Fee
EWS Application fee depends on the issuing authority and different state governments. In some of the states, It's absolutely free to apply for an EWS Certificate. In other states, applicants have to pay a nominal fee.
It simply means that the application fee for an EWS Certificate is not uniform in all states of India.
EWS Certificate Validity
The EWS Certificate or Economically Weaker Section Certificate will be valid for one financial year from the date of issue. If you will apply for this certificate in 2021 then It will be valid for the years 2021-2022.
Before using the EWS Certificate for admission or recruitment purposes applicants must check whether the Income certificate is valid or not.
You can also contact the issuing authority of the concerned State/UT to get more information about the validity of the EWS Certificate.
EWS Application Form Status Check
You can check EWS Application Status online in various states. Online portals by different states provide you the facility to track your EWS Application form status. You have to use your application number to track your application status for EWS Certificate.
It is compulsory for all the applicants to note down or save their application number or id so that they can check their EWS Application Status online.