BITSAT 2022 Exam Pattern: BITSAT 2022 Application Last Dates, Campus Life & How to Prepare for BITSAT Exam?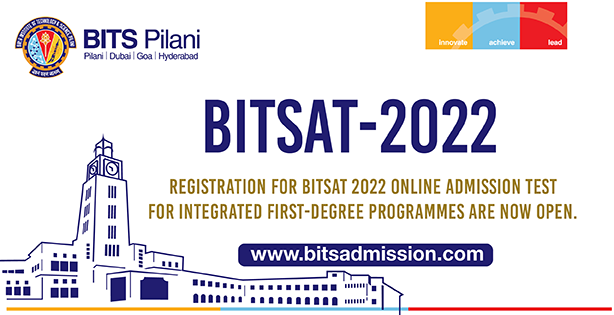 About BITSAT 2022 Exam
Admissions to all the Integrated First Degree programmes of BITS Pilani for its Campuses at Pilani, Goa,
and Hyderabad for the academic year 2022-23 will be made on the basis of a Computer based Online
Test conducted by BITS Pilani. This test will be referred to as 'BITS Admission Test – 2022', in short as
BITSAT-2022
Integrated First degree programmes to which admissions will be made on the basis of BITSAT2022:

(i) at BITS Pilani – Pilani Campus:
B.E.: Chemical, Civil, Computer Science, Electrical and Electronics, Electronics & Instrumentation,
Electronics & Communication, Mechanical, Manufacturing.
B. Pharm.
M.Sc.: Biological Sciences, Chemistry, Economics, Mathematics, Physics and M.Sc.: General Studies.
(ii) at BITS Pilani – K. K. Birla Goa Campus:
B.E.: Chemical, Computer Science, Electronics & Communication, Electrical and Electronics, Electronics & Instrumentation, Mechanical.
M.Sc.: Biological Sciences, Chemistry, Economics, Mathematics, and Physics.

(iii) at BITS Pilani – Hyderabad Campus:
B.E.: Chemical, Civil, Computer Science, Electronics & Communication, Electrical and Electronics,
Electronics & Instrumentation, Mechanical.
B. Pharm.
M.Sc.*: Biological Sciences, Chemistry, Economics, Mathematics, and Physics.
The candidates who join in M.Sc. programme are eligible to apply for dual degree in Engineering at
BITS Pilani after completion of first year. This assignment is made by competition on their
performance at BITS at the end of the first year. (For more details refer to Admissions Modality
available on the BITS admissions website.)
BITSAT 2022 Eligibility
(i) For admission to all the above programmes except B. Pharm.: Candidates should have passed the
12th examination of 10+2 system from a recognized Central or State board or its equivalent with
Physics, Chemistry, and Mathematics and adequate proficiency in English.

(ii) For admission to B. Pharm.: Candidates should have passed the 12th examination of 10+2 system
from a recognized Central or State board or its equivalent with Physics, Chemistry, and Biology and
adequate proficiency in English. However, candidates with PCM may also apply for the Pharmacy
program.

Admissions to all the programmes are subject to the conditions given below:
The candidate should have obtained a minimum of aggregate 75% marks in Physics, Chemistry and
Mathematics subjects (if he/she has taken Mathematics in BITSAT) or a minimum of aggregate 75%
marks in Physics, Chemistry and Biology subjects (if he/she has taken Biology in BITSAT) in 12th
examination, with at least 60% marks in each of the Physics, Chemistry, and Mathematics/ Biology
subjects.
Only Students who are appearing for 12th examination in 2022 or who have passed 12th Examination
in 2021 are eligible to appear in the BITSAT-2022 test. If a candidate has taken more than one attempt
in 12th class or its equivalent, only his latest performance is considered, provided this attempt has been for
the full component of subjects/courses prescribed. Students who have passed 12th examination in 2020 or
earlier are NOT eligible to appear in BITSAT-2022. Students who are presently studying in BITS at any
of its campuses are not eligible to appear in BITSAT-2022.

Admissions will be made purely on merit. The merit position of the candidate for admission will be based
on the score obtained by the candidate in the BITSAT-2022. However, their eligibility for admission is
subject to fulfilling the requirement of minimum marks in 12th examination, as mentioned above.
Direct Admission to Board Toppers: In the past, admission process of the Institute always ensured
guaranteed admission to all the students who obtained first ranks in their respective board examinations.
This has given a very vital input of highly meritorious students from all over India. First rank students of
State and Central boards in India for the year 2022 will be given direct admission to the program of their
choice, irrespective of their BITSAT-2022 score as per the eligibility criteria. The detailed eligibility
criteria, application procedure, and prescribed application form will be available by 10th July, 2022 at
www.bitsadmission.com

Further details about the Board Toppers' scheme will be available at BITS admission website tentatively
by 10th July, 2022
Latest Updates for BITSAT 2022 Exam
Birla Institute of Technology & Sciences has released the official notification for BITSAT 2022 Exam. From BITSAT Application Dates to BITSAT exam strategy everything including BITSAT Campus life is explained here.
Important Update: The no of questions and marks are changed in BITSAT from 2022. Now the BITSAT is for 130 Questions earlier it was 150 Questions. Take the advantage of this get good score.
BITSAT 2022 Exam Complete Timetable (Tentative)
BITSAT 2022 Events
BITSAT 2022 Dates
BITSAT 2022 Application Release
Date
14th March 2022 (Monday)
Deadline to apply online for BITSAT-2022 for Session-I or
Both the sessions
21st May 2022 (Saturday)
Revision/editing (online) in the application form by candidates
17th (Tuesday) to 23rd May (Monday), 2022
Test center allotment and announcement to candidates
26th May 2022 (Thursday)
Candidates to reserve Test date and slot **
28th May (Saturday) to 1st June (Wednesday), 2022
Candidates to download the Hall tickets with instructions (for
session 1)
4th June (Saturday), 2022 till the
exam date
BITSAT-2022 Online Test Session-I*
20th June (Monday) to 26th June (Sunday), 2022
The application window to apply for BITSAT-2022 Session-II
23rd June (Thursday) to 7th July (Thursday), 2022
Test center allotment and announcement to candidates
9th July (Saturday), 2022
Candidates to download the Hall tickets with instructions
18th July (Monday) till the exam date
BITSAT-2022 Online Test Session-II*
22nd July (Friday) to 26th July (Tuesday), 2022
Apply for admission with 12th marks and Preferences
22nd June (Wednesday) to 5th August (Friday, 2022
Editing of Preferences Application form
1st August (Monday) to 5th August (Friday), 2022
Admit list and Waitlist announcement after Iteration I.
Admit list and Waitlist announcement after Iteration I.
8th August (Monday), 2022
* Please note that these dates are tentative and might get changed if the situation warrants. However,
changes in dates (if any) shall be notified through the website well in advance. All information and
communications regarding BITSAT-2022 and Admission to BITS shall be made available to the
candidates on the BITS admission website www.bitsadmission.com. Candidates are advised to check
this website regularly for all related information on BITSAT and on admissions to BITS.
*Dates and No. of days may vary from center to center (These dates are tentative).
BITSAT Exam Pattern – BITSAT 2022
BITSAT 2022 is a computer-based test in which students will have to answer multiple-choice questions. Each question carries 3 marks & -1 for each incorrect answer. Students who finish the 130 questions in time will get additional 15 questions to answer, however, once students start attempting the additional questions they will not be able to revisit the previous 130 Questions. Unlike other exams, BITSAT scores will be shown immediately after the exam to the students on their computer screen.
BITSAT 2022 Marking Scheme
The marking scheme for BITSAT in the year 2022 is as follows.
It has +3 marks for every correct answer, -1 for every wrong answer and 0 for every other case.
Parts
Subject
No. of Questions
Part I
Physics
30
Part II
Chemistry
30
Part III
a) English Proficiency
10
b) Logical Reasoning
20
Part IV
Mathematics/Biology (for B.Pharm)
40
Total
130
If a candidate answers all the 130 questions (without skipping any question), the candidate will have an
option of attempting 12 (twelve) extra questions, if there is still time left. These extra questions will be
from Physics, Chemistry, Mathematics/Biology and Logical reasoning only; three questions from each
of them. Further, once the candidate has opted for extra questions, he/she cannot go back for correction
of any of the earlier answered 130 questions.
How to Study for the BITSAT 2022 Exam?
JEE and BITSAT both go hand in hand. The syllabus for JEE and BITSAT is mostly the same, only with a few minor differences.
BITSAT focuses on the speed and accuracy of the student whereas JEE focuses more on problem-solving ability. Therefore I would suggest u not take more than a minute for each question.
Some questions asked in BITSAT are completely straightforward and you can solve them even if you have read the theory of that topic properly. So try not to leave any topic, at least you should know the theory portion of each topic. Because BITSAT unlike JEE advanced concentrates on giving more logical questions compared to the tough calculative questions in JEE advanced. Thus a good understanding of theory can ensure a good rank in BITSAT.
A 10 marks are from English, these questions can be solved with basic knowledge of the English language. So be sure to keep brushing up your English grammar. To get it all correct, you need a good vocabulary. Improve your vocabulary as much as you can. This is not a one-day process but you'll slowly and gradually progress. Also proper knowledge of tenses, subject-verb agreement is needed.
 The next scoring part is mental ability and reasoning, which is for 20 marks to solve as many problems as possible on this topic before the exam in order to achieve speed. This part will basically test your 
Practice at least 5-7 previous BITSAT papers before giving the exam. There are plenty of sample papers available online which you can practice so that you have a good idea about the difficulty and length of the paper.
All the topics covered in BITSAT are not covered in IIT-JEE. Revise all the topics that you are comfortable with so that you can make the most of these easy scoring sections.
What are the extra questions?? Along with the sum total of 130 questions, it allows students to attempt an extra 12 questions but this comes with a catch. Once you opt for bonus questions, you have to submit your answers to the original 130 questions and you can't revert back to review those answers. As risky as this may sound, many students attempt the bonus questions to score the extra edge. It is wiser to check the 130 answers before opting for the bonus questions as once you land on the bonus questions, there is no going back to those 130 questions you answered.
The most important question here is to attempt extra questions or not? Try to attempt all the questions u can solve in one go, if you're left with some questions which you can't answer, try spending some time on them and if still the number of questions unanswered remains around 10- 15 questions then I would definitely recommend you to try your luck and guess the remaining questions in order to reach the final bonus questions as it is a marking scheme of +3, -1 thus at worst case scenario you will be left with -10 from this section. 60% of the bonus questions are of jee main difficulty and hence can be solved easily (thus ensuring you clever the negatives in the previous section) while the remaining 40% may be tricky or lengthy but still worth scoring.
Just set a goal for yourself to complete the questions given within two and a half hours so as to leave you with half an hour to attempt extra questions. So try not to spend more than a minute on each question.
BITSAT SYLLABUS
Part III:
(a) English Proficiency and (b) Logical Reasoning
(a)English Proficiency
This test is designed to assess the test takers' general proficiency in the use of English language as a means of self-expression in real life situations. It specifically tests the test takers' knowledge of basic grammar, their vocabulary, their ability to read fast and comprehend, and also their ability to apply the elements of effective writing.
1. Grammar
1.1 Determiners, Prepositions, Modals, Adjectives, Relative Pronouns
1.2 Agreement, Time and Tense
1.3 Parallel Construction
1.4 Voice, Transformation
1.5 Question Tags, Relative Clauses
2. Vocabulary
2.1 Odd Word, One Word, Spelling & Word Formation, Homophones
2.2 Contextual Meanings of Vocabulary (Definitions, Academic Vocabulary, Connotation)
2.3 Synonyms, Antonyms, Collocations
2.4 Phrasal Verbs & Idioms
2.5 Analogy
3. Reading Comprehension
3.1 Content/Ideas (Finding Main Ideas, Reaching Conclusions Using Supporting Evidence, Anticipation of Ideas, Distinguishing Facts from Opinions)
3.2 Vocabulary (Figurative Usage: Metaphors and Similes; Select CLOZE)
3.3 Summary (Findings from Options the Correct Summary)
3.4 Referents
3.5 Reorganization of Information (Jigsaw Reading)
4. Composition
4.1 Rearrangement (Word Order; Logical Organization of Paragraph)
4.2 Paragraph & Unity (Identifying the Correct Topic Sentence; )
4.3 Linkers/Connectives XIX
(b)Logical Reasoning
The test is given to the candidates to judge their power of reasoning spread in verbal and nonverbal areas. The candidates should be able to think logically so that they perceive the data accurately, understand the relationships correctly, figure out the missing numbers or words, and apply rules in novel contexts. These indicators are measured through performance on such tasks as detecting missing links, following directions, classifying words, establishing sequences, and completing analogies.
5. Verbal Reasoning
5.1 Analogy: Analogy means correspondence. In the questions based on analogy, a particular relationship is given and another similar relationship has to be identified from the alternatives provided.
5.2 Classification: Classification means to assort the items of a given group on the basis of certain common quality they possess and then spot the odd option out.
5.3 Series Completion: Here series of numbers or letters are given and one is asked to either complete the series or find out the wrong part in the series.
5.4 Logical Deduction: Reading Passage: Here a brief passage is given and based on the passage the candidate is required to identify the correct or incorrect logical conclusions.
5.5 Chart Logic: Here a chart or a table is given that is partially filled in and asks to complete it in accordance with the information given either in the chart / table or in the question.
6. Nonverbal Reasoning
6.1 Pattern Perception: Here a certain pattern is given and generally a quarter is left blank. The candidate is required to identify the correct quarter from the given options.
6.2 Figure Formation and Analysis: Here the candidate is required to analyze and form a figure from the various given parts.
6.3 Paper Cutting: Here the candidate analyses a pattern that is formed when a folded piece of paper is cut into a definite design.
6.4 Figure Matrix: Here the candidate is given more than one set of figures in the form of a matrix, which follow the same rule. The candidate is required to follow the rule and identify the missing figure.
6.5 Rule Detection: Here a particular rule is given and the candidate is required to select from the given sets of figures, a set of figures, which obey the rule and form the correct series
BITSAT Campus Life – Student's Guest Writeup
So much beauty but it holds a double-edged sword if you aren't careful. BITS has a diverse student body and you will find people of multiple backgrounds and hobbies.
As the admission is purely based on merit, the student quality here is very high which means you have heavy competition too. The grading system is tougher compared to other colleges, so you have to work really hard to end up with a good grade.
But does that have to mean you have to spend all your time studying so you can get a good CG? No is the answer. LITE the most used word in the bitsian slang isn't just a word it's a way of life, we bitsians live by it.
One of the many advantages of BITS is that we get to choose our own timetables here, curate them according to our desire and availability. Choose a lecturer for your course but you aren't happy? Just attend another lecturers class. You are your own boss here.
The '0%' attendance policy is yet another feather in the hat it allows the student to study at their pace and adjust their schedule accordingly.
BITS is one of the best places to hone your hobbies or make new hobbies, with a wide range of clubs and departments.
Ended up with lower marks in bitsat? What? You are getting a dual degree at Bits Pilani? Wanted a branch but failed to get it? The dual degree is the perfect program for you.

The dual degree is an innovative program offered at BITS that gives you a chance to take up your favorite branch along with a chance to master a subject of choice.

Generally, BE takes four years to complete and dual takes five years. Dual degree courses that are offered at BITS campuses are MSc.(Hons) Biology, Chemistry, Economics, Mathematics, and Physics.
First-year will be common to all. Depending upon the CGPA of first-year and your preferences, all the dualities will be allotted their respective BE degrees.
The bitsian life is ecstatic and beautiful but in order to get that life, you must first and foremost crack BITSAT. BITSAT isn't the same as other competitive exams.
Contributor : Bhavya D – BITS – Hyderabad Campus