Appearing for NEET again? Join the Rizee NEET Repeaters Course. Starts off on November 10th.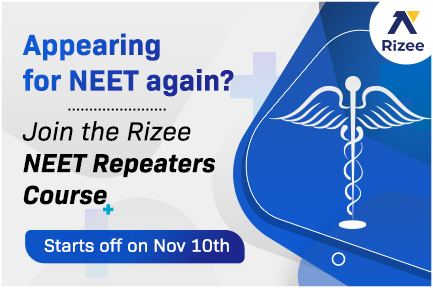 We understand that cracking NEET on the very first attempt can be a bit difficult. Rizee is here with a helping hand and a solid plan to help you crack NEET when you reappear for it. Rizee introduces the NEET Repeaters Course.
We are offering the NEET Repeaters Course in 2 flavors:
1.Self Study.
2.Self Study + Live Classes.

Here is a comparison of what you get in Self Study and Self Study + Live Classes
Highlights of NEET Repeaters Course – 2022:
This course is designed with repeaters in mind to help crack NEET with an intense preparation regiment. More focus on Physics to score 150+. Gain deeper understanding of every chapter with previous paper analysis
Get mentored One on One by the toppers from AIIMS and other top colleges to learn and understand the tips and tricks used for higher scores. Formulate a plan to score better.
Get tested every 15 days in our parietal test to know where you stand and find the areas where you need to concentrate more. 12-15  Mock tests will be conducted during the entire course schedule.
All tests conducted will be in the new NTA pattern. Also appear for the All India Mock Test and be exam ready in a realistic environment
Get  Daily Practice Problems (DPP) sent directly to your inbox with the essential questions to solve for that day's learnings. Get your doubts cleared in the live classes by our expert faculty and practice better.
Live Classes by Our Expert Faculty will be 90 min each. Attend live classes everyday on all subjects from the expert educators.  
 Learn, understand and remember the most important chapters and topics in an easy way for the exam. Live classes are recorded so that you can re-listen to them at any time you want. No more worrying about missing any classes.